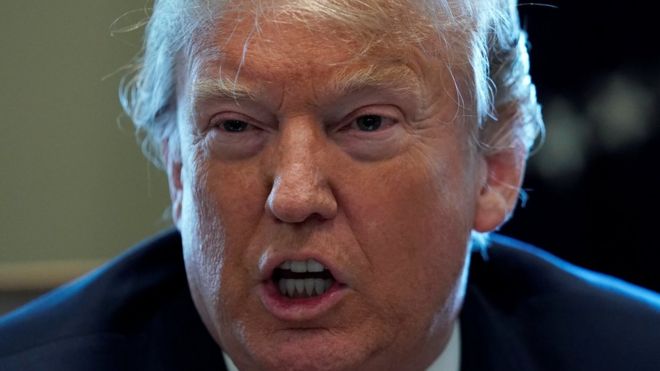 US President Donald Trump has tweeted that Russia should "get ready" for missiles to be fired into Syria, in response to an alleged chemical attack at the weekend.
Senior Russian figures had threatened to meet any US strikes with a response.
Mr Trump previously promised a "forceful" response.
President Bashar al-Assad's government - which receives military backing from Russia - denies being behind any chemical attack.
In his tweet, Mr Trump called Mr Assad a "gas killing animal".
On Saturday, Syrian opposition activists, rescue workers and medics said the rebel-held town of Douma in the Eastern Ghouta region had been attacked by government forces using bombs filled with toxic chemicals.
After the attack, Mr Trump and his Defence Secretary, James Mattis, cancelled travel plans. The US and Western allies said they have agreed to work together.
Several senior Russian figures warned of a Russian response to a US attack, with Alexander Zasypkin, Moscow's ambassador to Lebanon, repeating on Wednesday a warning by the head of the military that missiles would be shot down and their launch sites targeted.
Mr Trump's tweet referred to this warning.